There is always a process behind something. Here is something beautiful that process these natural and eco freindly products. It all happens in a few steps.
These areca products are eco-friendly alternative to conventional disposable Tableware. These biodegradable areca leaf Tableware are a natural resource.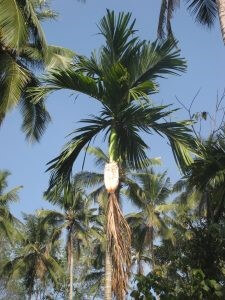 Steps: Pre-Process
1
First Step: Leaf Gathering
Areca Leaves are naturally discarded from the areca tree, are collected and no trees is cut. Simply to say, they are collected naturally when fallen from the trees. There's no harm. It is a natural process.
2
Second Step: Sheaths Separation
Once collected the leaves, they are separated from the dry leaves and the sheaths. These sheats are further processed while dry leaves become a part of biodegradable waste.
3
Third Step: Sheaths Cleaning
A product must be an honest production. In order to do so, the sheaths are cleansed; washed clean and kept for further processing.
4
Fourth Step: Production
Upon cleaning and verifying that these sheaths are ready for production, they are well soaked and processed for variety of sizes. These product sizes may differ accordingly.
Steps: Post-Production
1
First Step: Health & Safety Testing
Every human person thinks that they must receive the best. To happen so, we've the manufactured product health testing. This can be Coli form and Yeast/Mold testing. Meaning thereby, the products are sanitized for immediate use out of the package.
2
Second Step: Safety Protocol
There's also another safety protocol that is followed. It's called Phyto Sanitation. Before shipping, the container is fumigated and tested for safety. In order to export these ready products, the test must be passed. In nutshell, plant material is safe for contact with food.
3
Third Step: Ready for Dispatch
Upon passing the required test from the facility, these beautiful eco friendly areca products are now ready for dispatch any part worldwide.